What a fantastic topic this week: Income and Wealth Inequality.  I don't think I ever go a week without seeing an infographic online that shows data on wealth or income inequality, some sort of scale or graph to illustrate the differences, and a quote from Bill Gates or Warren Buffet on why taxes should be raised on the rich.  #FeeltheBern.
Since Crash Course did a pretty great job talking about productivity, capital, and technology in Episode #6, I was hoping that they would revisit these topics in explaining what wealth is and how people (rich and poor alike) become wealthier without doing much work.  They more or less covered this topic before: greater capital accumulation allows businesses to take risks by investing in research for technological upgrades.  These upgrades make goods cheaper and more accessible to consumers.
In this episode, however, Crash Course took a completely different angle.  This episode was more like a Bernie Sanders infographic than a real discussion of the pros and cons of income inequality.  Arguments advocating for government intervention were given consideration, while arguments against were either strawmen or described in a way to discredit the idea.  While this episode does not explicitly advocate for one side, it certainly does it implicitly.  All of this will be explained in this two-part blog post on this week's episode, but let's get started at the beginning:
Difference Between Wealth and Income
Crash Course started off great by distinguishing between wealth and income: wealth is current assets, and income is the new wealth that is flowing in.  They accurately show the difference in wealth between continents (and major countries like China), and then followed with a video graphic showing the differences in income quintiles throughout the world.
Crash Course never really makes a major point with this.  It seemed a bit rushed (they have to keep every episode around 10 minutes, after all), but I wish they had discussed how income taxes only affect new money coming in and not old money already earned.  In other words, when Warren Buffet or Bill Gates argues to increase the income tax, they are not advocating for taxes that would affect their wealth, but rather the income of others.
(side note: Crash Course messed up their graphic.  They mentioned how Europe and North America account for less than 20% of the world's population, but in the graphic they put a greater than sign)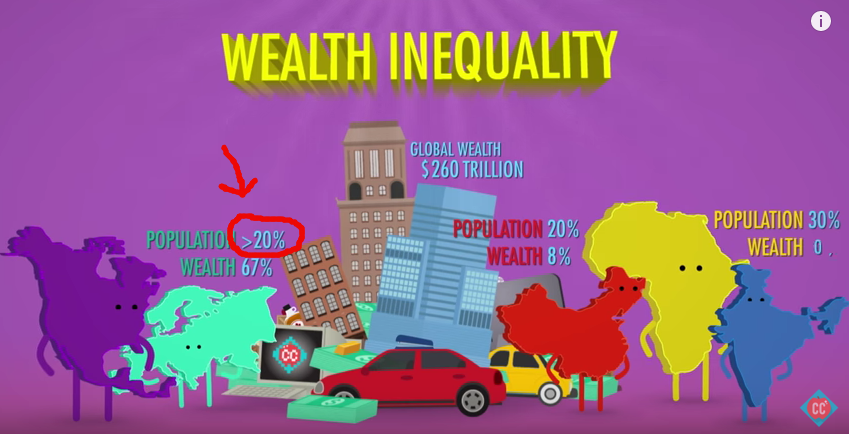 Globalization Helps Everyone
Skills and Income